STAR 1-5 Program
So your skater has transitioned out of the CanSkate session, what next?
Welcome to SkateCanada's new STAR 1-5 program!
The STAR 1-5 program will introduce skaters to the sport of figure skating and its disciplines:
Freeskate, Skills, Dance and Synchronized Skating (optional)
All coaches teaching skaters at the STAR 1-5 level of development must be trained on the contents of this program.
As explained in the LTAD Philosophies, the importance of strong technical development is critical at this stage.
The STAR 1-5 program is where figure skating begins! The STAR 1-5 program is comprised of five different levels for skaters who have completed the CanSkate program. It introduces participants to key components of figure skating including performance, assessment, and competition. STAR 1-5 fits into the Learn to Train level of Skate Canada's Long-Term Athlete Development Model (LTADM).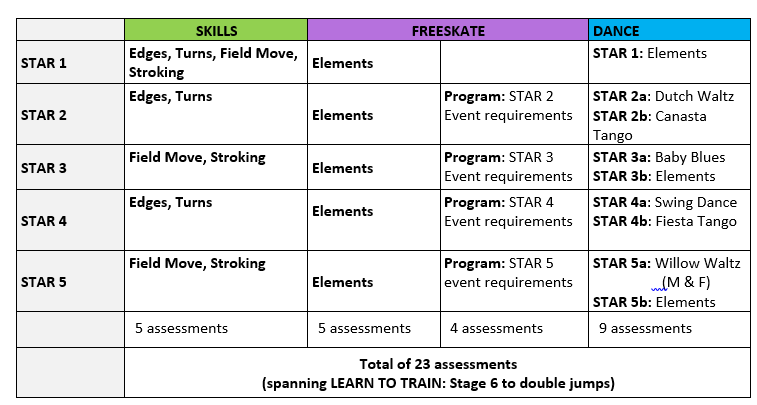 Each stage of this national program emphasizes key skills such as turns, stroking, jumps, spins, and different aspects of performance that have been designated by figure skating experts as necessary for development and progression in our sport. It is important to note that every skater is unique and will advance at different rates due to various factors such as growth spurts and participation. To accommodate individual needs, the STAR 1-5 program is designed to be fluid and allow skaters to progress at their own pace, even skipping levels if appropriate; skaters may move through several levels in a season or stay at the same level – it's all dependent on individual athlete development! At all stages and levels, parents should discuss their skater's progress with their coach to determine the best options for them.