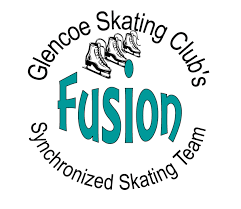 UPDATE: Glencoe Fusion is seeking new team members of all ages and skill levels!
​


SYNCHRONIZED SKATING
2013-14 Glencoe Fusion
Did you know?
Synchronized skating programs are performed to music. Skaters do formations which include circles, lines, blocks, wheels and intersections. The team skate together using various holds which include basic shoulder holds, hooking elbows, basket weave holds, and not holding at all. They do moves like spirals, lunges, shoot the duck, pivots, and pass-throughs all at once.
---
FUSION BRINGS HOME THE GOLD - 2012-13 Season!
After only 2 seasons together, Glencoe FUSION are now officially Gold Medalists!!
---
FUSION BRINGS HOME bronze - 2012-13 Season!
Glencoe Fusion were Bronze Medalists at the Bill Phillipson Memorial in March of 2013. Synchronized Skating Competition in Stratford on Sunday, December 9, 2012.

CONGRATULATIONS!
---